A computer malware that has spread across 150 countries appears to be slowing down, with few reports of fresh attacks in Asia and Europe on Monday. However staff beginning the working week have been told to be careful.
The WannaCry ransomware started taking over users' files on Friday, demanding $300 (£230) to restore access. Among the organisations targeted worldwide have been Germany's rail network Deutsche Bahn, Spanish telecommunications operator Telefonica, US logistics giant FedEx and Russia's interior ministry.
Hundreds of thousands of computers have been affected so far. Computer giant Microsoft said the attack should serve as a wake-up call.
The picture now appears better in Europe.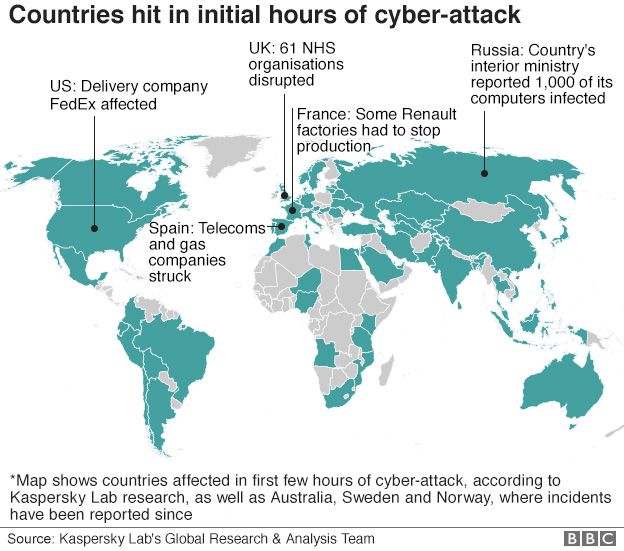 Senior spokesman for Europol, Jan Op Gen Oorth, told Agence France-Presse: "The number of victims appears not to have gone up and so far the situation seems stable in Europe, which is a success.
"It seems that a lot of internet security guys over the weekend did their homework and ran the security software updates."
Companies in Asia and Europe have been warning employees to be careful when clicking on attachments and links in their emails.
The message from the UK's National Crime Agency was "do not pay!" – there is no guarantee that systems will be restored.
Michael Gazeley, of Network Box, a Hong Kong-based cyber-security firm, told Reuters there were still "many 'landmines' waiting in people's in-boxes", adding that his firm had detected a new version that infected users directly via a malicious link on hacked websites.