After protests broke out over a sharp fuel price hike this week, Zimbabwe's government ordered a three-day internet shutdown — with police also firing tear gas at demonstrators from a helicopter and arresting dozens. According to NetBlocks, which estimates the cost of internet shutdowns worldwide, the three-day outage could cost the country's already shaky economy upwards of $17 million. Kuda Hove, from media rights organization MISA Zimbabwe, was working in his office when he first heard reports the internet had been disrupted. "WhatsApp, Twitter and Facebook were targeted and blocked," he told CNN. "By noon (on Tuesday) all internet connectivity was lost."
While some Zimbabweans have been able to bypass the blocks using virtual private networks (VPNs) — a common anti-censorship tool — others have been left without access to messaging services or non-government sources of information. "When we started getting news of throttling of internet traffic we sent out (information) on the use of VPNs," Hove said. Within hours, a hotline MISA had set up had received hundreds of calls asking how to set up the tools.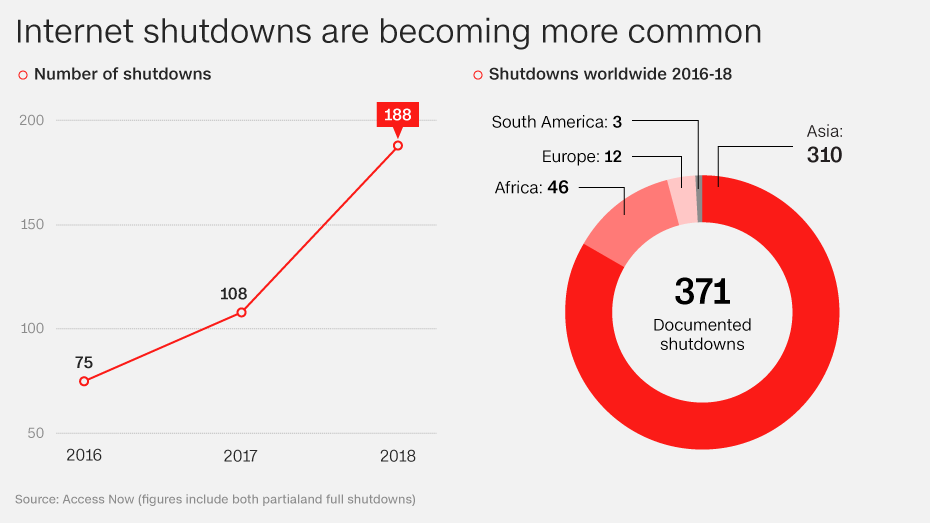 Less than three weeks into 2019, five countries have experienced partial or full internet shutdowns: Sudan, Bangladesh, the DRC, Gabon and Zimbabwe. There were more than 185 around the world last year — up from 108 the year before, according to Access Now. "We have seen a sharp increase in internet shutdowns in 2018. And with the way 2019 started, it seems things might not get better any time soon," Keep It On campaigner Berhan Taye told CNN.
Like many internet censorship tactics, shutdowns were popularized in China. The tactic has particularly spread to Beijing's allies, many of whom have benefited from Chinese training and technology in building up internal internet controls. Asia and Africa are the worst affected regions, with India — where internet censorship is on the rise despite the government's much vaunted pro-tech policies — holding the dubious crown of ordering the most shutdowns in both 2017 and 2018, according to Access Now data.
However the problem is increasingly a global one, with multiple shutdowns also recorded in Europe, South America and Africa in the last three years. During protests over the 2017 independence referendum in Catalonia, Spanish authorities reportedly throttled internet access and blocked websites — while last year, Russia blocked the encrypted messaging app Telegram, adopting a scorched earth approach to taking down the service that ended up negatively affecting dozens of other websites.
Source