Interpol is being involved to help curb a new rogue ransomware that Russian anti-virus firm Kaspersky Lab said its analysis showed that there had been about 2,000 attacks – most in Ukraine, Russia and Poland.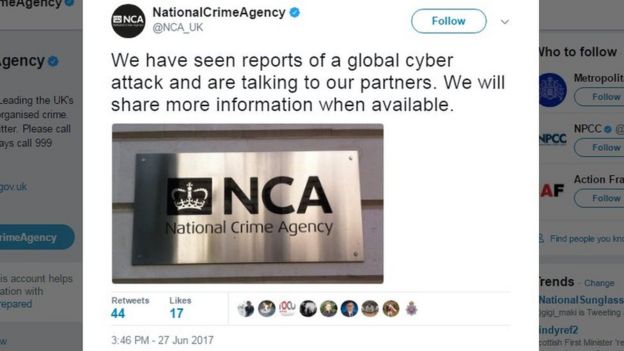 In a statement, the US National Security Council said government agencies were investigating the attack and that the US was "determined to hold those responsible accountable".
Experts suggest the malware is taking advantage of the same weaknesses used by the WannaCry attack last month.
"It initially appeared to be a variant of a piece of ransomware that emerged last year," said computer scientist Prof Alan Woodward.
The virus, the source of which is not yet known, freezes the user's computer and demands an untraceable ransom be paid in the digital Bitcoin currency.
Ukrainian firms, including the state power company and Kiev's main airport, were among the first to report issues. The Chernobyl nuclear power plant has also had to monitor radiation levels manually after its Windows-based sensors were shut down.
The US Department of Homeland Security advised victims not to pay the ransom, saying there was no guarantee that access to files would be restored.
"A South Korean hosting firm just paid $1m to get their data back and that's a huge incentive," he said. "It's the biggest incentive you could offer to a cyber-criminal."
A bitcoin wallet associated with the outbreak has received several payments since the outbreak began. The wallet currently holds just over 3.5 bitcoins (£6,775; $8,670).
The latest on #petya #notpetya #ExPetr & @Securelist blog https://t.co/PK5R7sOsNO <= includes #YARA pic.twitter.com/CfuprRudf2

— Kaspersky Lab (@kaspersky) June 27, 2017
Ukraine seems to have been particularly badly hit this time round.
Reports suggest that the Kiev metro system has stopped accepting payment cards while several chains of petrol stations have suspended operations.
Ukraine's deputy prime minister has tweeted a picture appearing to show government systems have been affected.
His caption reads: "Ta-daaa! Network is down at the Cabinet of Minister's secretariat."