A new report titled "Cyber security (Network Security, Cloud Security, Wireless Security and Others) Market, By Solution (Identity And Access Management (IAM), Encryption, Risk And Compliance Management, Data Loss Prevention, Antivirus And Antimalware, Firewall And Others), By Vertical (Aerospace, Government, Financial Services, Telecommunication, Healthcare And Others): Global Industry Perspective, Comprehensive Analysis, Size, Share, Growth, Segment, Trends and Forecast, 2015 – 2021 has been published by Zion Research. According to the report, global demand for cyber security market was valued at USD 105.45 billion in 2015, is expected to reach USD 181.77 billion in 2021 and is anticipated to grow at a CAGR of 9.5% between 2016 and 2021.
Cyber security is associated with information technology security, which focuses on protecting computers and confidential data stored in it from cyber criminals. Cyber security market offers several advantages including enhanced security of cyberspaces, expanded digital safeguard and quicker reaction time to national crises. These advantages of cyber security market automatically enhance value of service given to the market end-users.
The cyber security market is one of the highest growing markets in the information technology domain and it yields large economic opportunities. Growing risks such as computer hacking, software piracy and virus deployment are increasing the demand for cyber securities services. The governments of various countries are increasing their investment in cyber security owing to development in computer interconnectivity and remarkable growth in computing power of government networks.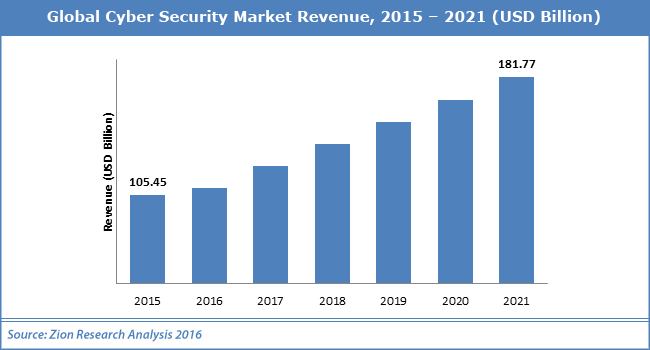 The major drivers of this market include stringent government regulation on data privacy, and increasing cyber threats. Lack of awareness and availability of pirated security software are expected to hamper the cyber security market in forecast period. There is a significant increase in the cyber security market due to development in cyber solution and services and it offers various options to safeguard data. Providing cyber security solution to ever increasing government IT domain becomes an expensive challenge for the government authorities.
Cyber security market is segmented based on security types, solution, and vertical and by regions. On the basic of security types market is divided into network security, cloud security, wireless security and others. Cyber solution segment includes identity and access management (IAM), encryption, risk and compliance management, data loss prevention, antivirus and antimalware, firewall and others. By vertical, market is segmented into aerospace, government, financial services, telecommunication, healthcare and others.
In 2015, North America dominated the cyber security market owing to the increasing cyber crime and strict government rules against it. Asia Pacific is a fastest growing regional market for cyber security market due to increasing number of internet users in China and India.
Some of the key players involved in global cyber security market include Symantec, IBM, McAfee, Northrop Grumman, and Booz Allen Hamilton, CSC among others.
The report segments the global cyber security market as:
Cyber Security Market: Security Type Analysis
Network Security
Cloud Security
Wireless Security
Others
Cyber Security Market: Solution Segment Analysis
Identity And Access Management (IAM)
Encryption
Risk And Compliance Management
Data Loss Prevention
Antivirus And Antimalware
Firewall And
Others
Cyber Security Market: Vertical Segment Analysis
Aerospace
Government
Financial Services
Telecommunication
Healthcare
Others
Cyber Security Market: Regional Segment Analysis
North America
Europe
Asia Pacific
Latin America
Middle East and Africa
Browse the full "Cyber security (Network Security, Cloud Security, Wireless Security and Others) Market, By Solution (Identity and Access Management (IAM), Encryption, Risk and Compliance Management, Data Loss Prevention, Antivirus And Antimalware, Firewall And Others), By Vertical (Aerospace, Government, Financial Services, Telecommunication, Healthcare And Others): Global Industry Perspective, Comprehensive Analysis, Size, Share, Growth, Segment, Trends and Forecast, 2015 – 2021" report at https://www.zionmarketresearch.com/report/cyber-security-market